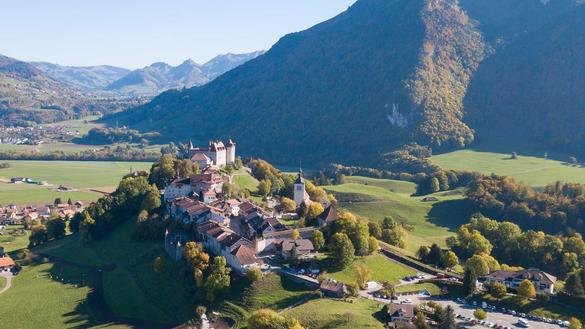 Gruyère
The picturesque town of Gruyères lies at the foot of the Pre-Alps in the canton of Fribourg. The pedestrianised town, its cobblestones and fountain invite you to take a gentle stroll. The medieval town has given its name to the region of La Gruyère and to its tasty cheese, Gruyère AOP.
A town of culture, four museums are open to you: the Château de Gruyères which dominates the town, the museum and bar of the artist H.R. Giger presenting the fantastic works of the creator of Alien, the Tibet Museum as well as La Maison du Gruyère.
A town of gastronomy, numerous traditional and cosy restaurants serve the legendary specialities of La Gruyère: fondues, röstis, chalet soup, alpine macaroni or the Bénichon menu.
During your stay, we will give you a Riviera Card on arrival, which will give you free public transport, a 50% discount on the museums of the Riviera and a 30% discount on the mountain trains and CGN "Belle Epoque" cruises.
For any information or reservations our 3Concierge is at your disposal